Hello again! Welcome to my post for my June TBR where you will see all of the books and all of the readathons. By the way, there's a lot (for me anyway)! I am going to be participating in five (? I think) readathons this month. Yeah, as I said a lot. Well, one is just a casual participation, so it's like if I happen to read a book that falls into that readathon while I'm participating in another then so be it. Alright, are you ready for this TBR?! Let's get into it.
So, first we have our #Smutathon TBR which runs from June 3rd through June 9th.
A steamy adult romance Readathon hosted by @rileymarie1196 & @readalonglainey
Then, we have the Colors of Loveathon or the #CoLathon which runs from June 10th through June 16th.
If you don't know, the #CoLathon is a week long readathon centered around reading LGBTQIA+ books based on the meanings of the current pride flag.  Hosted by @_everysecondbook, @readingrobby and @brittanysbooknook
Red – Life: Read a biography/memoir
For this prompt I have chosen Gender Outlaws: The Next Generation by Kate Bornstein and S. Bear Bergman. This book is a series of poems, essays, comic strips, etc. that examine the nature of gender choice, identification, oppression and transgender experiences.

Orange – Healing: Read a book about heartbreak
For this prompt, I haven't chosen a book for this one yet because I don't know if I want to buy one just yet or if I will check one out from the library. Some of the books I'm interested in reading for this prompt include:
Out on Good Behavior by Dahlia Adler
The Seven Husbands of Evelyn Hugo by Taylor Jenkins Read (and, no, I still haven't read this! 😂)
We Are Okay by Nina LaCour
History Is All You Left Me

Yellow – Sunlight: Read a book about first love
For this prompt, I have yet to choose a book for this one as well. Some more that I'm interested in include:
Love Comes First by Christine L'Amour
Laura Dean Keeps Breaking Up With Me by Mariko Tamaki
Simon vs. The Homo Sapiens Agenda by Becky Albertalli
Annie on My Mind by Nancy Garden

Green – Nature: Read a book that has elements of nature
For this prompt, I chose Wild Beauty by Anna Marie McLemore. All I know about this is that there are witchy sisters that tend to gardens, they can grow flowers out of their wrists (?) and their's a sapphic relationship.

Blue – Harmony: Read a book with multiple POV's
I chose Queens of Geek by Jen Wilde for this prompt. The first line from the synopsis says:

Three friends, two love stories, one convention: this fun, feminist love letter to geek culture is all about fandom, friendship, and finding the courage to be yourself.

Also, I hear that is has autism rep in this book, I'm super excited to read this one!
Purple – Spirit: Read a book with any pride color on the cover
For this I had previously bought Call Me By Your Name by André Aciman because I had it on my wishlist and I noticed that it was on sale for $1.99 last month, so I had to snag it! I chose it for this prompt.
For my next readathon I have the #Romanceathon (@Romanceathon) which, by the title, is pretty obvious. It's a week of romance reading! It runs from June 17th through June 23rd.
So, for our first prompt was have a forbidden romance and I chose Devil's Game by Joanna Wylde. This is a Romeo and Juliet-esque story about two rival motorcycle clubs. Hello, I miss Sons of Anarchy so this sounds right up my alley and I'm soooo excited for it!
The second prompt is, a new adult romance and I chose All Your Perfects by Colleen Hoover. All I know about this one is, that it's about a married couple who are having fertility issues.
Third prompt is, a book with pink on the cover and I chose Ice Cream Lover by Jackie Lau. I mean. can we just admire this cover for a second?! 😝🤣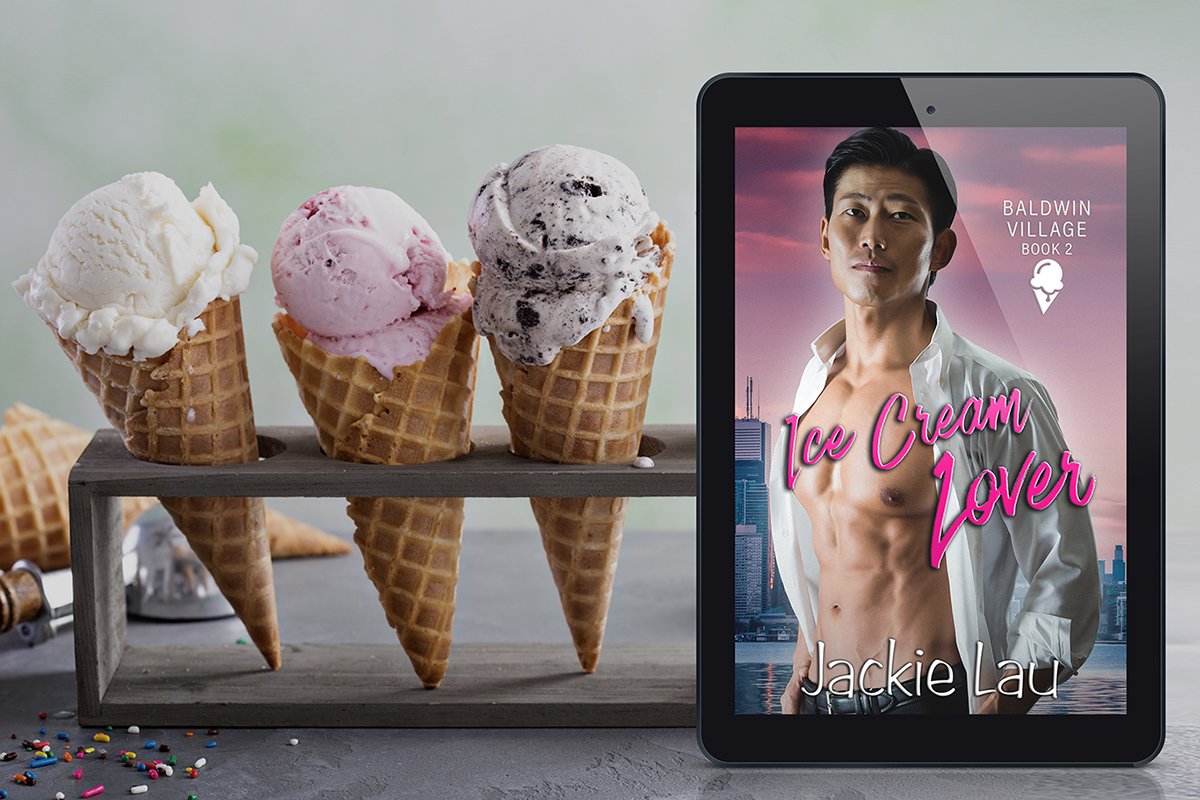 Ok, ok. Fourth prompt is, 2019 release and I picked Since We Last Spoke by Brenda Rufener. I'll be honest, I know nothing about this one, but here we are.
So, for our fifth prompt we have a book with a man on the cover and I'm pretty undecided about this one, but I think I'm going with The Author by Lexy Timms.
For the sixth prompt we have read an LGBTQ+ romance, I'm still undecided for this one as well. I'm leaning toward The Gentleman's Guide to Vice and Virtue by Mackenzi Lee but it's pretty up in the air. I could change this as we get closer to it.
And for the last prompt for this readathon we have read seven books and also not listed (on the graphic) is the group book, which is, On the Island by Tracey Garvis Graves. That will be my seventh book for this readathon. This book is about a teacher and student romantic relationship. Basically, the two are stranded on an island and fall in love over years. This is not an underage relationship, btw, it doesn't happen until the boy is eighteen. It has one of my favorite tropes, a slow burn romance and I am here for it!
Now, last but not least, we have the #Summerathon (@Summerathon)!
⛱ Summerathon is a summer-themed readathon taking place June 21-27 hosted by @crownsandquills @bookables1 @meltotheany @pinotandpages & @aimeereadstn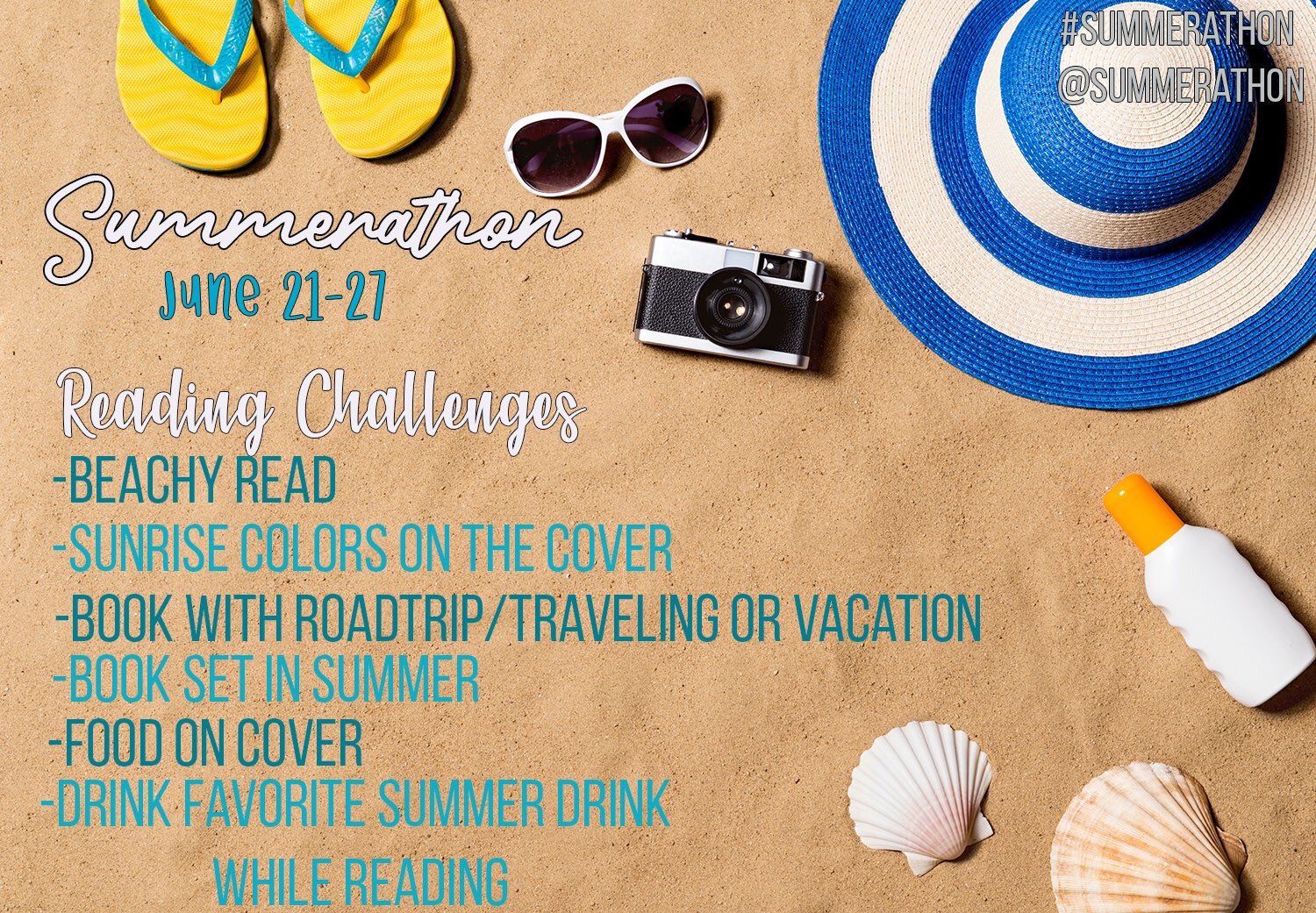 -Beachy Read: Because Romanceathon and Summerathon overlap, I'm choosing On the Beach for this one too.
-Sunrise Colors on the Cover: For this I'm going with The Love That Split the World by Emily Henry.
-Book with a roadtrip/traveling or vacation: For this, I'm going with, Along for the ride by Mimi Grace. I'm pretty sure this one has my other favorite trope, enemies to lovers. 😍💕
-Book set in summer: For this I'm thinking I'm going with Desire and the Deep Blue Sea by Olivia Dade. This has a fake dating, librarian coworkers and fat girl rep! I'm super excited for all the reads on my Summerathon, to be honest.
-Food on cover: For this I chose American Panda by Gloria Chao. I'm going into this one kind of blind so I'm hoping it's good!
And that's all for my massive June TBR because the last prompt for Summerathon is to drink your favorite summer drink while reading.
What do you think of my TBR? Any of these books on your June TBR? Any that your interested in? Any that you have read and highly recommend?